Benefits of Your Account:

Easy Online Platform:
Folio Institutional maintains separate and independent records of all important information about your investment account.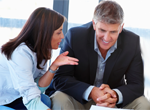 You can directly access statements, holdings, trade confirmations, tax documents, tax lot details, proxy information and more. Folio Institutional supports personal, business, trust, retirement and many other account types.
Through a special FDIC and SIPC program, your cash is insured at levels far beyond what some of the nation's largest financial institutions provide; your securities are covered under applicable SIPC and supplemental insurance. more
Cambria Capital:
Cambria Capital, LLC is a full service securities brokerage, registered investment advisor and technology driven investment banking firm. Our objective is to identify superior investment opportunities and provide innovative professional financial services to our clients.
Our focus is on understanding each client's financial objectives and developing an effective strategy to maximize growth opportunities and investment outcomes. We conduct our business with integrity and fairness, which is the backbone of our culture and tradition. We measure our accoplishments based on the results we achieve for our clients.
Visit us at www.cambriacapital.com/
Contact us at (877) 226-0477
Download our Customer Agreement
Powered by Folio Institutional:
Cambria Capital has selected Folio Institutional to offer you an easy-to-use online brokerage platform to provide services for your investment accounts. The Folio Client web site provides immediate, direct access to your accounts. Cambria Capital selected this innovative platform to give you flexibility and control over your investments.